If you own a local service business maintaining a blog on your website is a great way to establish yourself as an authority, provide value to your audience, and keep visitors coming back to your site. But there's another aspect of blogging on a WordPress website that you cannot afford to ignore: search engine optimization, more commonly referred to by its acronym: SEO.
As a website management company, SEO is one of the services that we offer to help you drive leads and make sales. As we covered in our blog post about small business SEO, organic traffic from Google is one of the best ways to help potential customers find you. SEO has many components, some more technical than others. One of the keys to SEO success is targeted content that integrates the proper keywords. This might sound daunting, but at its core, it's actually pretty simple: posts need to be written to include what your potential customers are searching for.
Optimizing Your Blog Posts
Blog post optimization starts with keyword research. The goal of SEO for small local businesses is to help people find your business when they're looking for the services you offer. By integrating common search terms into your posts, along with your service locations, you or your website management company can increase the likelihood that potential customers will find your site.
Choosing the right keywords is important. People search differently depending on where they are in the buying process. You want website visitors whom are searching for the services your company provides. Non-targeted web traffic is, in many ways, useless if it doesn't ultimately stand a chance of converting into sales.
Using any of several professional tools, website management companies and SEO consultants can find out what people are typing into Google. For every service or industry there are quite a few keywords and keyword phrases which, once discovered, can be utilized in order to bolster your targeted traffic. We can see how many people are searching for each term in your particular geographic area, and then select the keywords that are most likely to drive leads and earn you sales.
Going After the Long Tail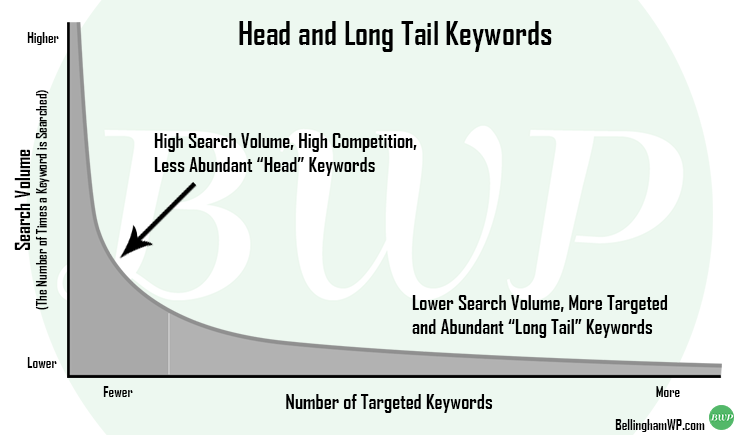 It may seem counterintuitive, but it's not always best to target the keywords with the highest number of searches. These more general, typically shorter in length, keywords are known as "head" keywords. They have a high search volume and may get thousands of searches in a single day. However, they're both highly competitive and loosely targeted. They may look like they'll bring in the most traffic, but they're not always going to bring in targeted traffic. When people are ready to buy something, whether it's a product or a local service, their Google searches tend to be longer and more specific.
These longer terms are referred to as "long tail keywords." This term is a visual metaphor for a graph of the frequency at which people search for a particular term. At one end of the graph you have short, general search terms with a very high number of searches. At the other end the graph trails off into a long "tail" composed of lengthier, less common keywords. This long, narrow "tail" may look underwhelming, but those searches can be highly lucrative.
Long tail keywords get fewer searches individually than more general terms, but overall, they make up over 70% of searches. Not only that, but they're more likely to lead to a purchasing decision. This makes long tail keyword optimization a great SEO opportunity for smaller companies, especially in niches and industries where it's hard to compete with top brands for Google rankings.
Why Optimize your Blog Posts for Long Tail Keywords?
Why focus on long, obscure terms that fewer people search for? There are several good reasons to focus on long tail keywords, especially for blog posts. Any blog post is ultimately a web page. With a combination of strong content and good optimization, that page can come up in Google searches. This drives traffic to your website and, ideally, that traffic consists of people who are likely to buy.
Here's why long tail keywords can be such a goldmine for small businesses:
They're less competitive, and it's easier to rank for them. Let's say you're a plumber in Spokane. There are an awful lot of plumbers in Spokane, making basic keywords like "plumber" difficult to rank for. In any industry and location head keywords will usually be dominated by a few top players with massive budgets. It's so competitive that a small mom-and-pop shop might not stand much of a chance.
People searching for them are more likely to make a purchase. Competition for head keywords is fierce, but that isn't the only reason to focus on long tail keywords. The other big reason is search intent. Long tail keywords often reflect a "buyer's mentality." These searchers are further along in the process of making a decision and stand a higher possibility of being ready to make a purchase. Someone simply searching for "plumbers" could be interested in all kinds of things. They could be looking to hire a plumber, but they might also be interested in looking at salaries or career opportunities. Compare that to a slightly more specific keyword, like "plumbing repair service" or "24 hour emergency plumber." These keywords don't get as many searches, but the searches are more targeted and the searcher's intent is significantly clearer. A web searcher looking for a 24 hour plumbing repair service has a higher chance of being interested in hiring a plumber as soon as possible to fix a problem. They're looking specifically for the service you provide, and they're likely to make a purchasing decision in the very near future. If they find your site listed in Google's search results for such a specific term they are far more likely to pick up their phone and call you.
They show you the questions your audience is asking. Coming up with blog post ideas can be challenging, especially in "unsexy" industries. Who wants to read about car insurance? Once you've covered the basics, it can be hard to come up with enough ideas to post content regularly. Long tail keywords provide valuable insight into what kinds of questions your audience is asking about your service, helping you create content they will want to read. Great content connects with your audience, and one of the best ways to do that is to focus on what they want to know. Planning your posts around long tail keywords can provide a wealth of ideas that you didn't realize was possible.
Long tail keywords may get fewer searches, but the people searching for them are likely to be in a "buyer's mentality." Choosing the right keywords can help you hone in on the people who have a genuine interest in your service. You may get less total traffic ranking for "24 hour emergency plumber" than you would by ranking for "plumbers," but the traffic you'll get will be more likely to convert into sales.
This Sounds Complicated!
There's more to writing a great business blog than meets the eye, and for busy business owners, it can be a major hassle. Few business owners have time to research keywords and write content, and neither does your staff. Fortunately, you don't need to write your own content unless you really want to. You can almost always outsource content to a web management company, letting them take care of the details while you focus on what you're best at.
Bellingham WP provides detailed long tail keyword research and content writing services. Our talented writers create blog posts that are interesting, useful, and highly targeted toward the people who need your services the most. Need a hand with your blog? Get in touch to discuss our content writing and creation services. We can also formulate a comprehensive SEO strategy for your business.